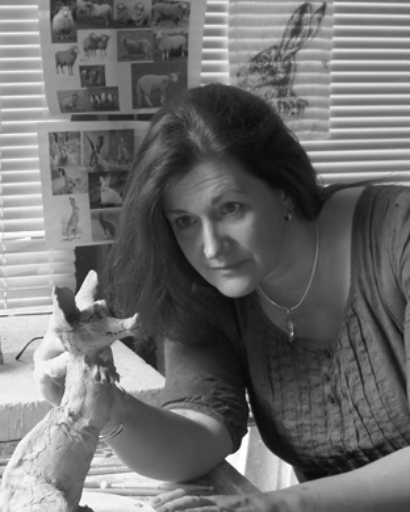 Gin Durham is a contemporary sculptor living and working in the UK. Her sculptural animal pieces are exhibited in galleries across the UK and feature in international private collections. For many years she has enjoyed creating and exhibiting artworks, through from her first disciplines as a commercial illustrative and design artist, to sculpting in stoneware and porcelain clay.
From an early age Gin has been fascinated by animal behaviours and the way in which they are represented in culture, particularly in the genre of storytelling. Her quirky and imaginative ceramics are inspired by imagery shaped by treasured tales, into beautifully sculpted work, rich in humour, character and detail.
Gin's ceramic practice has been established since graduating with a 1st class Degree from Bucks New University in 2011. The natural properties of clay make it such rewarding material; allowing her to hand-build each piece, drawing the clay into hollow, slab-built, fluid forms. The work is enhanced by her wealth of experience with mixed media and design, developed over the years. Drawing and illustrating has always formed the basis for each three dimensional piece.
Every animal is unique; individually sculpted in stoneware or porcelain, incorporating textile impressed elements and finished with oxides, glaze and gold or platinum lustres. All of the work is kiln fired three times at varying temperatures in order to enhance the depth of colour in the finish.
Each piece is informed by the rich historical value of traditional ceramics, combined with the multi-layered textile surface finish and precious metals.